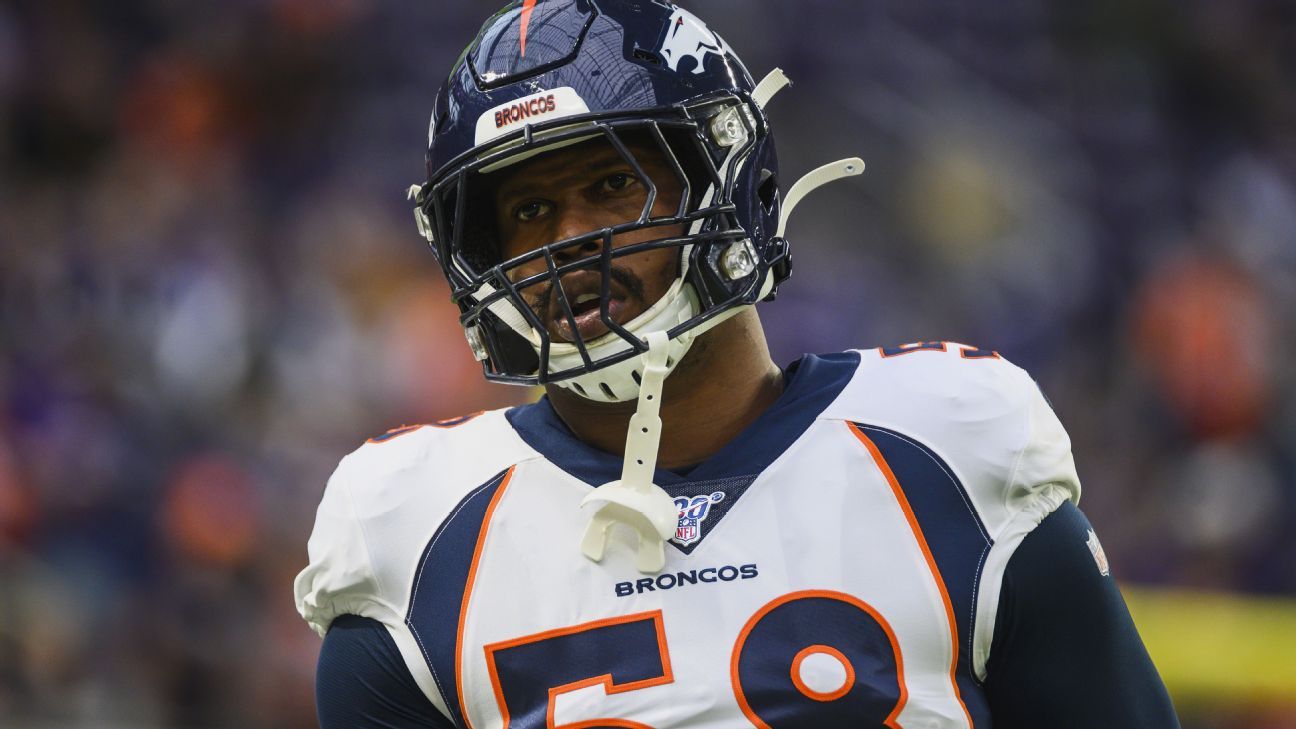 ENGLEWOOD, Colo. — Denver Broncos linebacker Von Miller injured a tendon in his ankle near the end of Tuesday's practice and is expected to need surgery that is likely to end his season, a league source told ESPN's Adam Schefter.
Miller was sent for a magnetic resonance imaging (MRI) exam shortly after suffering the injury and as of early Tuesday night the Broncos were still evaluating the results. Because of inclement weather the Broncos practiced on their indoor field and Miller, several team sources said Tuesday night, was injured as the practice drew to a close as two team sources said the injury happened on "the last play" of practice.
Miller has been one of the Broncos' most durable players throughout his career, rarely even missing practice unless he had been held out for rest. Overall, he missed just one game — Dec. 1 last season against the Los Angeles Chargers – in the last six seasons.
He had a consecutive game streak of 95 games with a total of 5.251 defensive snaps played in the streak when he missed the game against the Chargers with a knee injury.
Before that Miller had missed the 2013 regular-season finale when he tore his ACL in the team's Week 16 win over the Houston Texans. He missed the first six games of that season with a suspension.
The Broncos started Tuesday's practice at noon Mountain time and the workout was considered an "extra" practice for the team since Denver doesn't open the season until Monday night against the Tennessee Titans.
The eight-time Pro Bowl selection has been poised for a big year, having started his workouts for the 2020 season just days after the 2019 season ended. Miller has repeatedly said what a disappointment 2019 had been for him as well as the team as he finished with eight sacks – his first season with fewer than 10 since 2013 – and the Broncos missed the playoffs for fourth consecutive season.
He had added some more weight in the offseason and had maintained is trademark quickness, routinely showing in training camp practices he was in top form. Miller had also battled COVID-19 in April, having been one of the first players in the league to publicly disclose he had tested positive for the virus.
Broncos' president of football operations/general manager John Elway had said in recent days: I think Von's had a good camp. He looks like he's ready to go."
Broncos coach Vic Fangio had called it "a hunger" in Miller that Fangio had said he had not seen previously.
"I just tried to change that and I tried to work as hard as I possibly could," Miller said of his offseason work. "I didn't take any days off, I didn't go on any vacations and I didn't do anything but work out, grind and reinvest all the time that I would usually spend on endorsements. I just reinvested that time back into myself."
Original article: https://www.espn.com/nfl/story/_/id/29840388/broncos-von-miller-suffers-potential-season-ending-ankle-injury